Your Kingdom Assignment
---
Therefore, since we are surrounded by such a great cloud of witnesses, let us throw off everything that hinders and the sin that so easily entangles. And let us run with perseverance the race marked out for us – Hebrews 12:1 NIV
Everyone has an assignment in the kingdom and for the kingdom. Every assignment is unique and important. Therefore, I have created a mentorship program called "Your Kingdom Assignment" to help you discover and implement your assignment. Listen to the audio message below to learn more.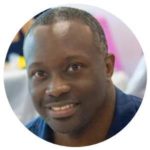 Amos Johnson Jr, PhD
---
If God is leading you to join the Your Kingdom Assignment mentorship program, then click the join button below and let's get started. We will meet over phone or Skype monthly. And I am always available via email. You can stay a member for as long or short as needed. The investment is $295 per month.


Signup closes on Friday July 28, 2017

Why not a coaching program?
---
Well because there is not one blueprint for kingdom assignments. There are various ways God calls people and it is dangerous to follow someone else's model.
My goal is simply to help you gain clarity on all the various decisions in your assignment that need to be made, so it can thrive. I don't have all the answers, but I know how to help you (through the Holy Spirit) discover the answers.
Without counsel purposes are disappointed: but in the multitude of counsellors they are established. – Proverbs 15:22
Proverbs tells us that through counsel plans are established, but without counsel plans fail. Therefore, I have created the Your Kingdom Assignment Mentorship Program to guide you in discovering and launching your assignment.
God has anointed me with the gift of clarity. I can help others see clearly what God has called them to do and what decisions need to be made to accomplish that calling. And this is exactly my goal in this mentorship program. You will receive clarity.
Who is this Mentorship Program for: If your kingdom assignment is in business, ministry, non-profit, or a combination, then this program is for you.
Here is how it works.
---
Once per month we'll spend one hour together (on the phone or Skype) discussing your next steps and analyzing through the Holy Spirit all the decisions that need to be made. Here are a few things we'll probably discuss:
Are you called to business, ministry, nonprofit, or a combination
What legal structure should you use
Who specifically is your assignment called to service
A launch plan for your assignment
A marketing plan to systematically attract those you are called to serve
Methods to fund your assignment
And this is just for starters. Because as you get into your assignmnet, more and more questions will come up, and we will discuss them all to arrive at clarify.
In between monthly mentorship meetings, you also have unlimited access to email me any questions you have. And of course, I will be praying for your success in the assignment God has given you.
The investment for Mentorship: Our monthly meetings and access anytime to email me questions is $295 per month. There is not a time requirement. You can stay a member of my Mentorship Program as short or long as needed.


Signup closes on Friday July 28, 2017

About Amos Johnson Jr, PhD
---
My educational background is in Electrical & Computer Engineering and I am a Ministry School graduate. So here is the funny part, with my technical background and ministerial training, God has given me a calling to help Christian succeed at their calling. I know crazy right? But God works like that.

I believe a fulfilled life comes from clearly knowing what God has called you to do and doing it. Therefore, I love helping Christians find clarity in their calling.
In 2014, I started my kingdom assignment, which is Church for Entrepreneurs. It is a ministry that teaches people around the world the Word of God as it relates to their entrepreneurial calling and is an online church home for entrepreneurs world wide.
I look forward to helping you discovery and implement your kingdom assignment. Click Here to join my Mentorship Program. This program is for up to 12 members and signup ends on July 28, 2017.